"A Smile 4 U From Both of Us"
We have been married for over 25 years and God has blessed us with two amazing children (now young adults studying in University of NC-Charlotte). We love spending time with the family, traveling, reading, volunteering in the community every time we have the opportunity and our family is active in our church.
We have been enjoying all the years we have been working together as a team since we were in dental school. We will strive to provide you and your family the best possible dental care along with our staff.
We relocated from Puerto Rico in 2004 after having a successful practice in Fajardo, PR. We opened our doors in 2008 and we have such a great staff and patients that we love like family, we feel our office is our second home.
Dr. José L. Arocho
graduated from
Howard University College of Dentistry in Washington D.C.
After graduating in 1991, he completed a General Practice Residency at
Metro Health Medical Center in Cleveland, Ohio
. Dr. Arocho has been practicing Family and Cosmetic Dentistry ever since. He also has a Bachelors Degree in Biology and an Associate Degree in Nursing, from the Antillian University, in the city of Mayagüez, Puerto Rico.
---
Dr. Nelly A. Matos
graduated from
Howard University College of Dentistry
in Washington, D.C. After graduating in 1992 she has been working in Family and Cosmetic Dentistry as well. Dr. Matos also worked in Public Health, in Gaston County. She also has a Bachelors Degree in Science with a major in Biology from the University of Puerto Rico, Rio Piedras campus.
---
They are both members of the following organizations:
Colegio de Cirujanos Dentistas de P.R. (Puerto Rico College of Dental Surgeons)
---
Our Team
Irka
Office Manager
Welcome to our office! I am the friendly face at the front desk and also a dental assistant. I love to find ways to help people smile and that includes building confidence to share their smile. I am happy to answer your questions, schedule appointments, help resolve concerns and make your visit a positive one. It is important for me that each of you enjoy a feeling of confidence in our office. I have been with Smile 4 U Family Dentistry office since September 2015. We all work extremely well together to provide the best service for you. Our staff is very warm and inviting. I really appreciate the attentive care and the positive energy our doctors and our team strive to provide, as individuals and collectively, to each patient.
Danaes "Denise"
Dental Hygienist
Denise is a former native New Yorker, graduated from Eugenio María de Hostos Community College in Bronx, New York. She has been working 30 plus years as a Dental Hygienist.
Christy
Dental Assistant II
Christy joined our team in 2013. She was born in Perú and relocated to Charlotte from New Jersey in 2013 and is bilingual (English/Spanish). She graduated from a Dental Assistant program at Fortis Institute in New Jersey in 2009. She has been a Certified Dental Assistant for over 10 years. She truly loves working with patients, making them laugh and feel comfortable. And the most importantly, providing them with exceptional care.

When Christy is not at the office, she loves spending time with her husband of 14 years, their 12 year old daughter and their 6 year old son. She also likes to eating out, going to the gym, to the movies and traveling.
Delka
Front Office
Delka is a dental assistant and is now working in the front office. She will call you, send postcards and friendly reminders when you are due for a checkup! She loves to juggle the office schedule and works hard to assist our patients in setting up and keeping their appointments, so they can always have a great healthy smile!!!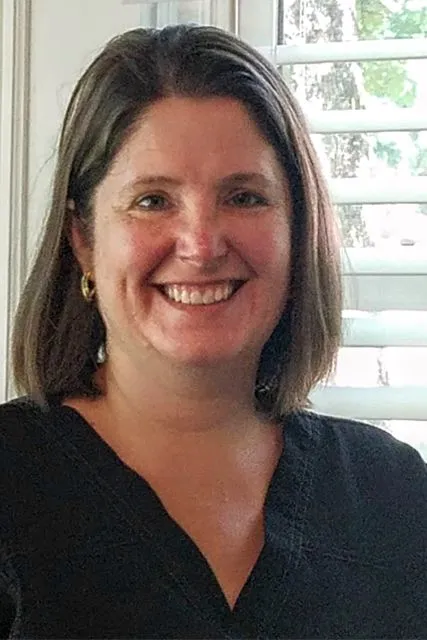 Amy
Dental Hygienist
Amy joined A smile 4 U in 2019 after relocating to North Carolina from Georgia.
Amy started her career working as a dental assistant in 1994 after attending Gwinnett Technical Colleges dental assisting training program. After several years as an assistant she received her degree in Dental Hygiene from Georgia Perimeter College in 2006 and has been working as a hygienist since then. What she loves most about being a hygienist is all the people she gets to meet and take care of every day. She does whatever she can to make the people she treats feel comfortable and at ease while providing excellent care. Amy takes continuing education classes through out the year to stay up to date on all the changes in dentistry. While not at work Amy enjoys spending time outdoors camping and hiking or baking new recipes at home. Amy has two grown children; her daughter works at a television studio and her son is a Registered Nurse.